FAQs
1. What is a PCB?

A PCB is a printed circuit board, also known as a printed wiring board. It is used in electronics to build electronic devices. A PCB serves two purposes in the construction of an electronic device; it is a place to mount the components and it provides the means of electrical connection between the components.

2. What is a FPC?

A FPC is a flexible printed circuit, and is used as interconnection to transmit signals for electronic products by developing circuits on flexible Copper Clad Laminate through processes of exposure, etching … etc.

3.What types of board can you provide?

We can provide: Single-Sided; Double-Sided; Multi-layer (up to 24 layers); Aluminum base board; Flex and Flex-Rigid board.

4. What is made of a flexible circuit board?

A basic flexible circuit is made of a flexible polymer film laminated to a thin sheet of copper that is etched to produce a circuit pattern. Patterns can be created on both sides of the film. Interconnections are achieved with plated through-holes, yielding an almost unlimited adaptability between various component parts. A polymer overcoat is often added to insulate and environmentally seal the circuit.

5. The benefits of Flexible circuits

Flexible circuits provide many benefits compare rigid PC boards:

1>.A solution to a package problem;
2>. Reduce assembly costs
3>.Replacement for a circuit board and wires;
4>.Reduce weight and space;
5>.Dynamic Flexing;
6>.Thermal management/high temperature applications;
7>.Aesthetics.

6. What information do you need for quick quotations?

We should to know the below specifications before quotation: Quantities Required; Material Type, Thickness and Copper Weight; Dimensions; Gold Edge Connectors; Delivery Date; Plating Finish; Number of Layers; Soldermask, Silkscreen; Testing; Gerber Files or Artwork Supplied; Number of Holes and Drill sizes.


7.What different types of file you are comfortable to work with?

We normally work with the most common format Gerber files(RS274*format), Protel/DXP customers used.

8.What's the minimum order?

There is no minimum order. No matter you order one or a lot, we are here to help you.

9. How can I pay?

We accept payments by paypal, wire transfer. All of orders should be paied before making, for the samples, we recommend to use Paypal,very quickly and convenient.

10. What happens if I have a problem?

We are committed to your satisfaction and we ask that you contact our salesperson immediately if you have a problem of any kind. If you ever feel that you've received a product or service that was below your expectation, please feel free to call or email us straightaway. Also, we would like to hear any suggestions you may have for improvements.
Service World Widely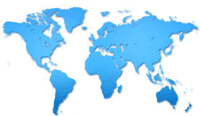 Quality Control